Shell, staff donate relief materials, N300m to flood victims in Niger Delta
Nov 15, 2018
Staff and management of The Shell Petroleum Development Company of Nigeria Limited (SPDC) have spent the last two weeks working as volunteers in the distribution of relief materials worth over N300 millions to communities affected by devastating floods in the Niger Delta states of Rivers, Bayelsa, and Delta.
With staff making personal cash donations, SPDC's provision of food and non-food items and medical supplies reached over 4,000 displaced families in some communities as well as those in government-approved camps for internally displaced people (IDPs) in the three states.
General Manager External Relations, Mr. Igo Weli, said: "Staff made personal donations to complement the company's US$1 million donation, because we care and want to help affected people overcome the effect of the flood disaster."
SPDC will also donate USD125, 000 to the National Red Cross Society to support the provision of relief materials to nominated Local Government Areas and communities affected in Kogi State as well as provide relief materials to affected families in Anambra State.
Weli said the relief materials are to support the people to have some normalcy until the flood completely recedes.
Delta State Commissioner, Bureau for Special Duties and Chairman Delta State Relief Committee, Dr. Ernest Ogwezzy, described SPDC as "a good neighbour". The Commissioner, who spoke at the Patani IDP Camp, thanked SPDC "for identifying with the people at a time of need."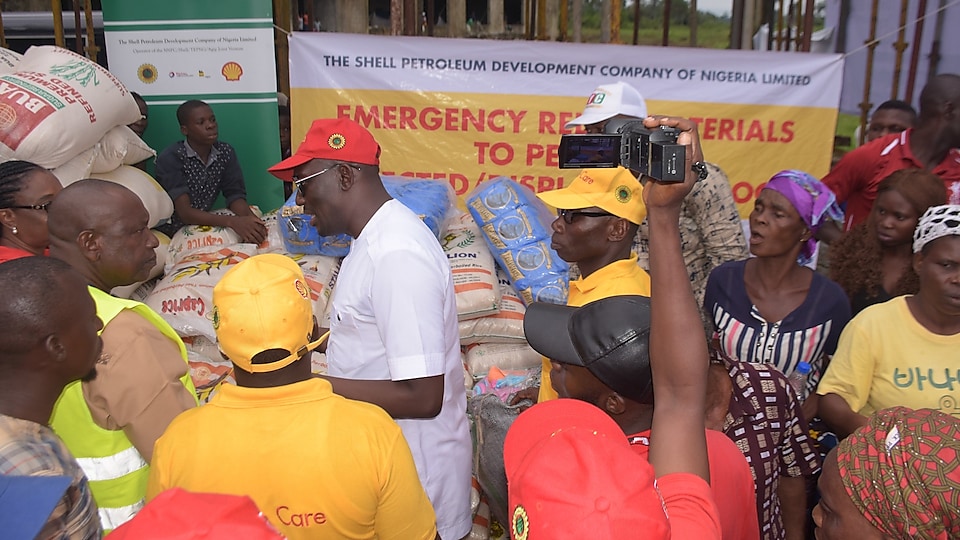 President Worldwide of the Ijaw Youth Council, Barrister Oweilaemi Pereotubo Rowland joined the SPDC JV volunteers for coordination and monitoring at the Ogbia and Igbogene IDP camps in Bayelsa State.
A Red-Cross officer takes record of SPDC JV relief materials for flood victims at Patani IDP Camp in Delta State.
States Commissioner for Special Duties, Barrister Ernest Oweizu, joined the SPDC JV volunteers to distribute relief materials at Uwheru IDP camp in Ughelli North, Delta State.
SPDC External Relations Manager Swamp West, Evans Krukrubo (left), led the team to distribute relief materials to flood victims in Ewheru IDP Camp in Delta State.
Priority materials: sleeping mattresses, blankets, cooking items, food materials and toiletries donated by the SPDC JV at the Ogbia-Igbogene IDP Camps in Bayelsa State
Director General, Bayelsa State Emergency Management Agency (SEMA), Major Dr. Zeddy Isu, and SPDC Social Performance & Investment Manager, Gloria Udoh, (centre) lead the SPDC JV volunteer team at Ogbia-Igbogene IDP, Bayelsa State
DG, Bayelsa SEMA, Major Dr. Zeddy Isu, SPDC Social Performance & Investment Manager, Gloria Udoh, with SPDC JV volunteers at Ogbia LGA Bayelsa State.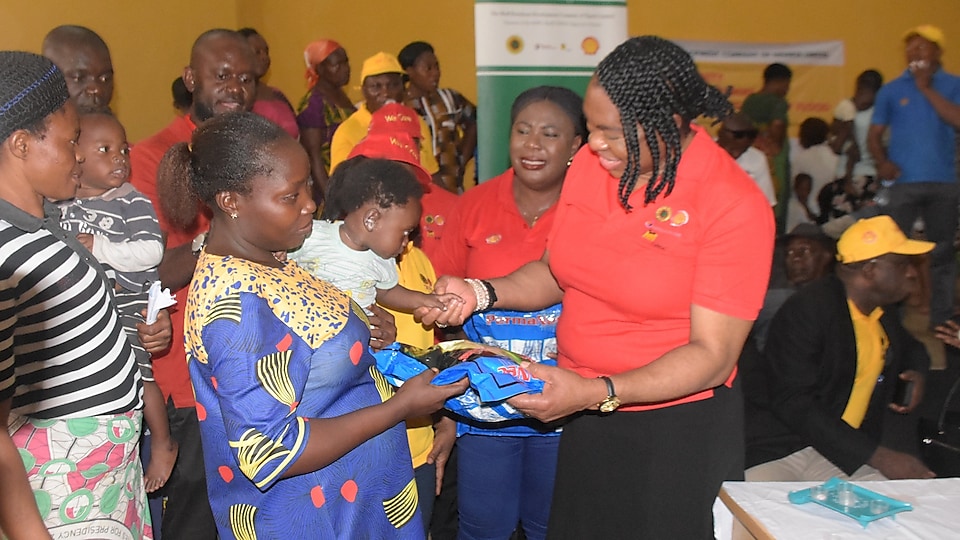 SPDC Social Performance & Investment Manager, Gloria Udoh, lead distribution of Mosquito nets to nursing mothers at the IDP camp in Bayelsa State.
Accompanied by the Director General, Delta State Emergency Management Agency (SEMA), Mr. Karo Ovemeso, and the Patani Local Government Chairman Barrister Perekebena Perez Omoun, Dr. Ogwezzy said, "While government has provided some relief materials, it is heart-warming that SPDC still sees the need to augment government's effort in alleviating the suffering of the people."
Earlier, in Akinima community, Rivers State, SPDC Regional Community Health Manager, Dr. Akin Fajola, supervised the provision of health services and referral of severe cases to nearby government hospitals, while in Ogbia Main Town, Bayelsa State, SPDC Manager for Social Investment and Performance, Mrs Gloria Udoh, noted that the donations and medical outreaches to affected communities were to "identify with SPDC's neighbours in their period of crisis."
External Relations Manager Swamp West, Mr. Evans Krurkubo, and his team were received with fanfare at the Uwheru IDP camp in Ughelli North local government in Delta State. The traditional head of Uwheru, Agbaovwe Afugbeyah Oyise II, led dignitaries to appreciate the team for the donations.
Though the focus of the donations is on communities near its areas of operations, SPDC disaster relief support has also been extended to other communities most devasted by the flood and selected IDP camps in the three states.
Bamidele Odugbesan
Media Relations Manager
Softphone: +234 807 022 8045
Cautionary note
The companies in which Royal Dutch Shell plc directly and indirectly owns investments are separate entities. In this announcement "Shell", "Shell group" and "Royal Dutch Shell" are sometimes used for convenience where references are made to Royal Dutch Shell plc and its subsidiaries in general. Likewise, the words "we", "us" and "our" are also used to refer to subsidiaries in general or to those who work for them. These expressions are also used where no useful purpose is served by identifying the particular company or companies. ''Subsidiaries'', "Shell subsidiaries" and "Shell companies" as used in this announcement refer to companies over which Royal Dutch Shell plc either directly or indirectly has control. Companies over which Shell has joint control are generally referred to "joint ventures" and companies over which Shell has significant influence but neither control nor joint control are referred to as "associates". In this announcement, joint ventures and associates may also be referred to as "equity-accounted investments". The term "Shell interest" is used for convenience to indicate the direct and/or indirect ownership interest held by Shell in a venture, partnership or company, after exclusion of all third-party interest.
This announcement contains forward-looking statements concerning the financial condition, results of operations and businesses of Royal Dutch Shell. All statements other than statements of historical fact are, or may be deemed to be, forward-looking statements. Forward-looking statements are statements of future expectations that are based on management's current expectations and assumptions and involve known and unknown risks and uncertainties that could cause actual results, performance or events to differ materially from those expressed or implied in these statements. Forward-looking statements include, among other things, statements concerning the potential exposure of Royal Dutch Shell to market risks and statements expressing management's expectations, beliefs, estimates, forecasts, projections and assumptions. These forward-looking statements are identified by their use of terms and phrases such as ''anticipate'', ''believe'', ''could'', ''estimate'', ''expect'', ''goals'', ''intend'', ''may'', ''objectives'', ''outlook'', ''plan'', ''probably'', ''project'', ''risks'', "schedule", ''seek'', ''should'', ''target'', ''will'' and similar terms and phrases. There are a number of factors that could affect the future operations of Royal Dutch Shell and could cause those results to differ materially from those expressed in the forward-looking statements included in this announcement, including (without limitation): (a) price fluctuations in crude oil and natural gas; (b) changes in demand for Shell's products; (c) currency fluctuations; (d) drilling and production results; (e) reserves estimates; (f) loss of market share and industry competition; (g) environmental and physical risks; (h) risks associated with the identification of suitable potential acquisition properties and targets, and successful negotiation and completion of such transactions; (i) the risk of doing business in developing countries and countries subject to international sanctions; (j) legislative, fiscal and regulatory developments including regulatory measures addressing climate change; (k) economic and financial market conditions in various countries and regions; (l) political risks, including the risks of expropriation and renegotiation of the terms of contracts with governmental entities, delays or advancements in the approval of projects and delays in the reimbursement for shared costs; and (m) changes in trading conditions. All forward-looking statements contained in this announcement are expressly qualified in their entirety by the cautionary statements contained or referred to in this section. Readers should not place undue reliance on forward-looking statements. Additional risk factors that may affect future results are contained in Royal Dutch Shell's 20-F for the year ended December 31, 2017 (available at www.shell.com/investor and www.sec.gov). These risk factors also expressly qualify all forward-looking statements contained in this announcement and should be considered by the reader. Each forward-looking statement speaks only as of the date of this announcement, November 15, 2018. Neither Royal Dutch Shell plc nor any of its subsidiaries undertake any obligation to publicly update or revise any forward-looking statement as a result of new information, future events or other information. In light of these risks, results could differ materially from those stated, implied or inferred from the forward-looking statements contained in this announcement.
We may have used certain terms, such as resources, in this announcement that United States Securities and Exchange Commission (SEC) strictly prohibits us from including in our filings with the SEC. U.S. Investors are urged to consider closely the disclosure in our Form 20-F, File No 1-32575, available on the SEC website www.sec.gov. You can also obtain these forms from the SEC by calling 1-800-SEC-0330.