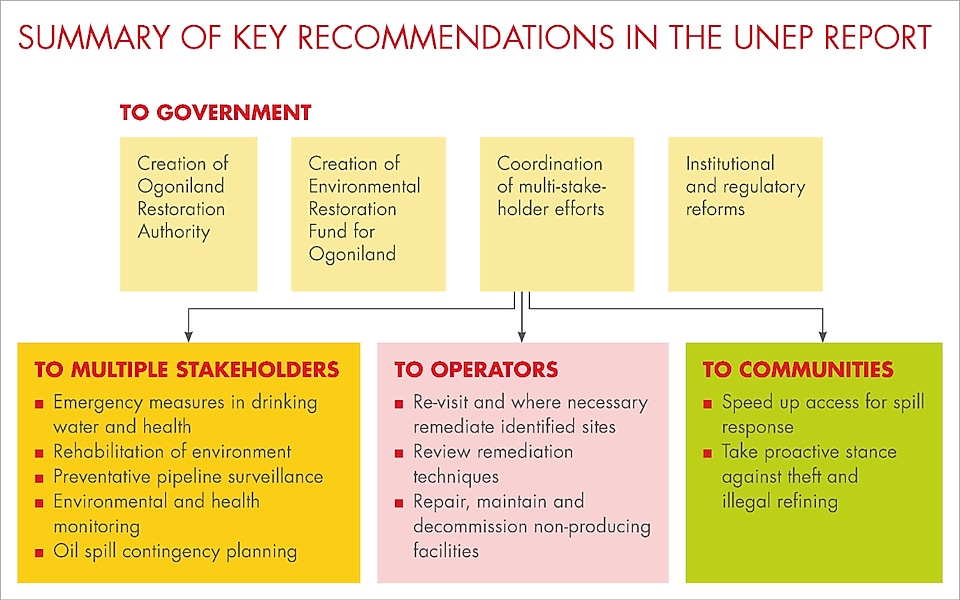 April 2018 - Recent Developments to Implement UNEP Report Recommendations
The SPDC JV is committed to the implementation of the UNEP Report and welcomes the Federal Government of Nigeria's (FGN) efforts to progress its implementation, including the creation of Governing Council (GC) and Board of Trustees (BoT) of the Ogoni Restoration Fund (ORF) in Aug 2016 to oversee and fund the clean-up process.
The SPDC JV is represented on both the GC and BoT and will continue to actively support the clean-up process along with other stakeholders within the framework established by the Federal Government of Nigeria. Also, the reformation of the Hydrocarbon Pollution and Remediation Project (HYPREP) under the Ministry of Environment is a positive development aimed at the sustainable clean-up of Ogoniland.
The SPDC JV applauds the ground-breaking ceremony in February 2017 of the Integrated Contaminated Soil Management Centre, which will help create employment opportunities in Ogoniland and facilitate the acquisition of skills in the treatment of contaminated soils. HYPREP has also embarked on intensive sensitisation campaigns with key Ogoni stakeholders including illegal crude oil refiners and conducted medical outreach programmes in four local government areas.
The SPDC JV commits to support HYPREP and the HYPREP Project Coordinator (Dr. Marvin Barinen Dekil) in the clean-up process.
SPDC JV has made available the $10 million take-off fund for HYPREP as part of its contribution towards funding its share of the ORF.
SPDC remains fully committed to continue supporting and contributing its share to the ORF within the agreed governance framework. We encourage all relevant stakeholders to also remain committed to contributing their share to the ORF. 
SPDC continues to look forward to working collaboratively with HYPREP and other government and non-government stakeholders to ensure the clean-up process established by the Federal Government of Nigeria succeeds. To this end, during 2017 SPDC JV was involved in technical meetings with UN organisations and HYPREP aimed at providing an overall strategy for the implementation of the UNEP Report. SPDC also participated in sessions providing support to HYPREP in developing work plans and associated budgets.
SPDC JV continues to implement several initiatives to prevent and minimise the impact of crude oil theft and illegal refining in Ogoniland and other parts of the Niger Delta where it operates. For example:
community-based pipeline surveillance,
awareness campaigns, and
the promotion of alternative livelihood programmes, such as Shell's youth entrepreneurship programme, Shell LiveWIRE.
The UNEP Environmental Assessment of Ogoniland
The United Nations Environment Programme (UNEP) released its Environmental Assessment of Ogoniland in August 2011. The report was commissioned by and delivered to the Federal Government of Nigeria. It makes recommendations to the government, the oil and gas industry and communities to begin a comprehensive cleanup of Ogoniland, restore polluted environments and put an end to all forms of ongoing oil contamination in the region.