Shell's gas to boost industrialisation in Oyo company awards contract for Bayelsa
Oct 04, 2020
Shell Nigeria Gas (SNG) is to facilitate domestic gas infrastructure development in Oyo State following the signing of a Memorandum of Understanding with the state government last week.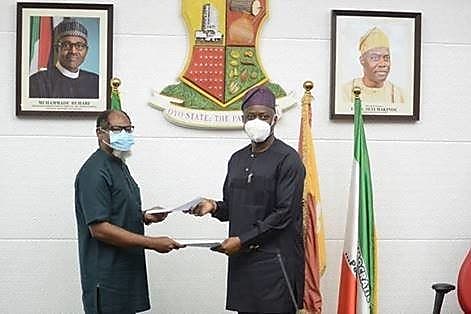 The pact targets the distribution of cleaner and more reliable gas energy to industries in the state through a distribution network with potential for around 50 million standard cubic feet of gas per day, starting from the state capital, Ibadan, as the point of first entry.
The MoU set out broad terms and conditions to guide co-operation between the two parties for the project development and delivery, and it was signed at the Oyo State Government House last Wednesday by Managing Director of SNG, Ed Ubong and the state governor, Oluseyi Makinde.
The governor described the agreement with SNG as critical in the state's efforts to boost industrialisation and enhance economic development while improving access to power for both residential and industrial areas in the state. "We believe that the agreed terms in the MoU will lead to the signing of the Build-Operate-Own-and Transfer agreement so that businesses can begin to reap the benefits of a steady source of energy."
SNG's Managing Director, Ed Ubong said, "The partnership is an opportunity to further improve domestic gas utilisation in Nigeria, enabling local industries to thrive and create employment opportunities for Nigerians."
In another development, SNG has commissioned an indigenous contractor, Gredor Nigeria Limited, to begin the construction of the gas pipeline infrastructure to deliver gas to the Nigeria Content Development and Monitoring Board Industrial Park in Polaku, Bayelsa State. SNG had earlier in the year acquired the lease of one hectare of land in Polaku for the gas project which will supply gas for industries in the park and the environs. The project is expected to be delivered within six months.
Ubong said the Polaku project would boost industrialisation in Bayelsa State and provide employment opportunity for skilled and unskilled local population in addition to directly improving internally generated revenues in the state.
He said, "The project will increase the over 150 industrial and commercial customers in Nigeria who currently receive SNG's supply of natural gas through gas infrastructure that we have built with our partners and local stakeholders."
Responding to the rapid expansion of SNG as distribution network, Country Chair, Shell Companies in Nigeria, Osagie Okunbor said Shell was positioned to continue to optimise its onshore footprint while investing in gas. "For more than 50 years, Shell has been in the forefront of the campaign to develop and monetise Nigeria's huge gas resources. SNG continues to demonstrate leadership in this space, growing the domestic gas market and also helping to improve lives in every state it operates."
SNG recently completed 20 kilometres domestic gas pipeline expansion project in Abia State, connecting Agbor Hill, Osisioma and Ariaria industrial zones. The expansion project has enabled the supply of pipeline gas to Ariaria Market Energy Solutions Limited, the Independent Power Project (IPP) consortium that provides electricity to the popular Ariaria market in Abia State. Ariaria International Market is one of the largest leather shoe-making and open stall markets in West Africa, with over 37,000 shops and an estimated one million traders.
Cautionary note

The companies in which Royal Dutch Shell plc directly and indirectly owns investments are separate entities. In this announcement "Shell", "Shell group" and "Royal Dutch Shell" are sometimes used for convenience where references are made to Royal Dutch Shell plc and its subsidiaries in general. Likewise, the words "we", "us" and "our" are also used to refer to subsidiaries in general or to those who work for them. These expressions are also used where no useful purpose is served by identifying the particular company or companies. ''Subsidiaries'', "Shell subsidiaries" and "Shell companies" as used in this announcement refer to companies over which Royal Dutch Shell plc either directly or indirectly has control. Companies over which Shell has joint control are generally referred to "joint ventures" and companies over which Shell has significant influence but neither control nor joint control are referred to as "associates". In this announcement, joint ventures and associates may also be referred to as "equity-accounted investments". The term "Shell interest" is used for convenience to indicate the direct and/or indirect ownership interest held by Shell in a venture, partnership or company, after exclusion of all third-party interest.
This announcement contains forward-looking statements concerning the financial condition, results of operations and businesses of Royal Dutch Shell. All statements other than statements of historical fact are, or may be deemed to be, forward-looking statements. Forward-looking statements are statements of future expectations that are based on management's current expectations and assumptions and involve known and unknown risks and uncertainties that could cause actual results, performance or events to differ materially from those expressed or implied in these statements. Forward-looking statements include, among other things, statements concerning the potential exposure of Royal Dutch Shell to market risks and statements expressing management's expectations, beliefs, estimates, forecasts, projections and assumptions. These forward-looking statements are identified by their use of terms and phrases such as ''anticipate'', ''believe'', ''could'', ''estimate'', ''expect'', ''goals'', ''intend'', ''may'', ''objectives'', ''outlook'', ''plan'', ''probably'', ''project'', ''risks'', "schedule", ''seek'', ''should'', ''target'', ''will'' and similar terms and phrases. There are a number of factors that could affect the future operations of Royal Dutch Shell and could cause those results to differ materially from those expressed in the forward-looking statements included in this announcement, including (without limitation): (a) price fluctuations in crude oil and natural gas; (b) changes in demand for Shell's products; (c) currency fluctuations; (d) drilling and production results; (e) reserves estimates; (f) loss of market share and industry competition; (g) environmental and physical risks; (h) risks associated with the identification of suitable potential acquisition properties and targets, and successful negotiation and completion of such transactions; (i) the risk of doing business in developing countries and countries subject to international sanctions; (j) legislative, fiscal and regulatory developments including regulatory measures addressing climate change; (k) economic and financial market conditions in various countries and regions; (l) political risks, including the risks of expropriation and renegotiation of the terms of contracts with governmental entities, delays or advancements in the approval of projects and delays in the reimbursement for shared costs; and (m) changes in trading conditions. All forward-looking statements contained in this announcement are expressly qualified in their entirety by the cautionary statements contained or referred to in this section. Readers should not place undue reliance on forward-looking statements. Additional risk factors that may affect future results are contained in Royal Dutch Shell's 20-F for the year ended December 31, 2019 (available at www.shell.com/investor and www.sec.gov). These risk factors also expressly qualify all forward-looking statements contained in this announcement and should be considered by the reader. Each forward-looking statement speaks only as of the date of this announcement, Oct 4, 2020. Neither Royal Dutch Shell plc nor any of its subsidiaries undertake any obligation to publicly update or revise any forward-looking statement as a result of new information, future events or other information. In light of these risks, results could differ materially from those stated, implied or inferred from the forward-looking statements contained in this announcement.
We may have used certain terms, such as resources, in this press release that the United States Securities and Exchange Commission (SEC) strictly prohibits us from including in our filings with the SEC. Investors are urged to consider closely the disclosure in our Form 20-F, File No 1-32575, available on the SEC website www.sec.gov.