120 Niger Delta entrepreneurs receive Shell Nigeria LiveWIRE grants
Mar 06, 2019
Another 120 youth entrepreneurs from seven states of the Niger Delta have been given Shell LiveWIRE business training and N48 million by The Shell Petroleum Development Company (SPDC) Joint Venture to begin small-scale businesses in their respective states in the expectation that they will become models for alternative livelihoods as part of the programme to deter involvement of youths in vices.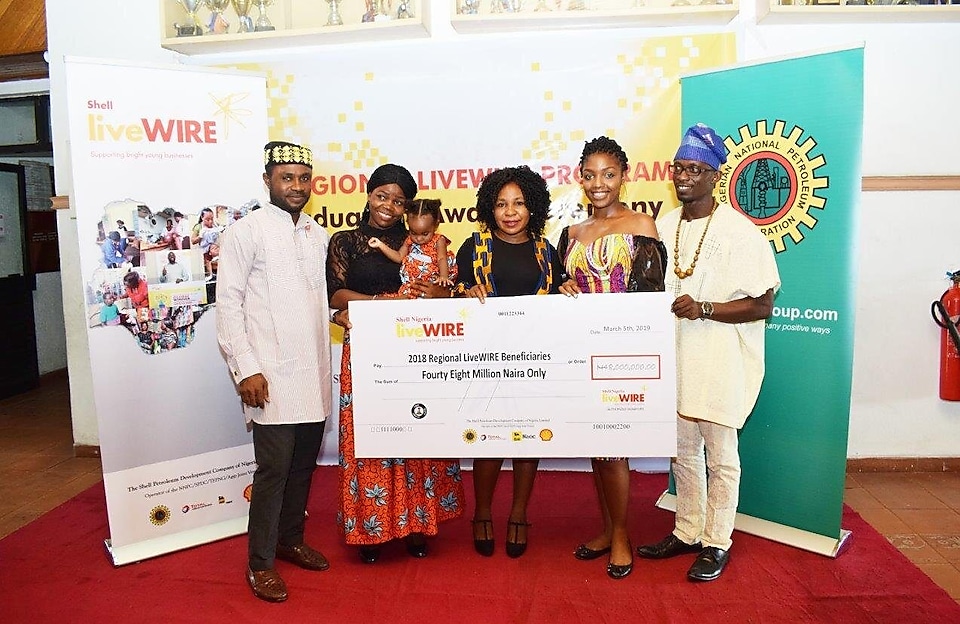 The 120 beneficiaries received their certificates at a Regional Shell LiveWIRE graduation ceremony in Port Harcourt on Tuesday.
SPDC General Manager External Relations, Mr. Igo Weli, described the company's flagship youth enterprise development programme, Shell LiveWIRE, as a potent initiative that has produced over 7,000 Niger Delta entrepreneurs since inception in 2003 with most of them now employers of labour.
He said, "Some of the beneficiaries have also been given the opportunity to participate in SPDC's supply chain as vendors and have been linked to growth capital from other agencies."
Speaking at the graduation ceremony, the Director of Secondary Education, Rivers State Ministry of Education, Mrs. Sokari Davies, commended SPDC and its joint venture partners for the consistent sponsorship of the Shell LiveWIRE programme.
Mrs. Davies said, "Irrespective of the challenges in the operating environment, SPDC still deemed it necessary to empower and develop the youths. Other multinational oil companies should copy SPDC and channel resources towards the development of the youths. That way, restiveness will greatly reduce. Government will continue to partner with SPDC because of this.
"It is indeed a remarkable day for the 120 beneficiaries and we are pleased to see this group of young entrepreneurs start-up businesses that will contribute to the economic development of our communities."
A previousShellLiveWIRE beneficiary and now Managing Director of De-Rabacon Plastics, Yolo Bakumor Smith, told the RegionalShellLiveWIRE graduates how he also won themaiden Shell Outstanding Achievement Prize in the 2018 Shell LiveWIRE Top Ten Innovators Global Awards.
Yolo said, ''I owe my gratitude to Shell because no other multinational operating in our region has given back the way and manner that they have. I am my own boss now and I have been privileged to assist a lot of people courtesy of SPDC and its joint venture partners."
The Shell LiveWIRE Nigeria programme, a part of the global Shell LiveWIRE social investment programme, enables young people to start their own business and create employment. In 16 years of operation in Nigeria, the Shell LiveWIRE has received local and international recognitions. For example, in 2011, the programme received the African Leadership Magazine award for Youth Development, Social Enterprise and Reports Award (SERA) 2010.
Two Nigerian beneficiaries emerged winners in the 2017 and 2018 editions of the Global Shell LiveWIRE Top Ten Innovators Award. Three others won the 2017 pitching contest in ShellLiveWIRE #Makethefuture Accelerator event held in Port Harcourt and, between 2010 and now, five beneficiaries have won the international GO and Trade Enterprise Linkage Award which enabled them to make international trade visits to London, Dubai in United Arab Emirates and Neighbouring Ghana.
At the national level, five beneficiaries have won the Federal Government 'YOU WIN' awards in 2014 and 2015. Two of them won the Central Bank of Nigeria Entrepreneurship award, while 10 others won the Tony Elumelu Foundation Award.

The RegionalShellLiveWIRE programme operates in the Niger Delta region and aims to inspire, encourage and support young people aged 18-30 to start up their own businesses in the Nigerian states of Edo, Delta, Bayelsa, Rivers, Abia, Imo, Cross River and Akwa Ibom.
Bamidele Odugbesan
Media Relations Manager
March 6, 2019
Softphone: +234 807 022 8045
Cautionary note
The companies in which Royal Dutch Shell plc directly and indirectly owns investments are separate entities. In this announcement "Shell", "Shell group" and "Royal Dutch Shell" are sometimes used for convenience where references are made to Royal Dutch Shell plc and its subsidiaries in general. Likewise, the words "we", "us" and "our" are also used to refer to subsidiaries in general or to those who work for them. These expressions are also used where no useful purpose is served by identifying the particular company or companies. ''Subsidiaries'', "Shell subsidiaries" and "Shell companies" as used in this announcement refer to companies over which Royal Dutch Shell plc either directly or indirectly has control. Companies over which Shell has joint control are generally referred to "joint ventures" and companies over which Shell has significant influence but neither control nor joint control are referred to as "associates". In this announcement, joint ventures and associates may also be referred to as "equity-accounted investments". The term "Shell interest" is used for convenience to indicate the direct and/or indirect ownership interest held by Shell in a venture, partnership or company, after exclusion of all third-party interest.
This announcement contains forward-looking statements concerning the financial condition, results of operations and businesses of Royal Dutch Shell. All statements other than statements of historical fact are, or may be deemed to be, forward-looking statements. Forward-looking statements are statements of future expectations that are based on management's current expectations and assumptions and involve known and unknown risks and uncertainties that could cause actual results, performance or events to differ materially from those expressed or implied in these statements. Forward-looking statements include, among other things, statements concerning the potential exposure of Royal Dutch Shell to market risks and statements expressing management's expectations, beliefs, estimates, forecasts, projections and assumptions. These forward-looking statements are identified by their use of terms and phrases such as ''anticipate'', ''believe'', ''could'', ''estimate'', ''expect'', ''goals'', ''intend'', ''may'', ''objectives'', ''outlook'', ''plan'', ''probably'', ''project'', ''risks'', "schedule", ''seek'', ''should'', ''target'', ''will'' and similar terms and phrases. There are a number of factors that could affect the future operations of Royal Dutch Shell and could cause those results to differ materially from those expressed in the forward-looking statements included in this announcement, including (without limitation): (a) price fluctuations in crude oil and natural gas; (b) changes in demand for Shell's products; (c) currency fluctuations; (d) drilling and production results; (e) reserves estimates; (f) loss of market share and industry competition; (g) environmental and physical risks; (h) risks associated with the identification of suitable potential acquisition properties and targets, and successful negotiation and completion of such transactions; (i) the risk of doing business in developing countries and countries subject to international sanctions; (j) legislative, fiscal and regulatory developments including regulatory measures addressing climate change; (k) economic and financial market conditions in various countries and regions; (l) political risks, including the risks of expropriation and renegotiation of the terms of contracts with governmental entities, delays or advancements in the approval of projects and delays in the reimbursement for shared costs; and (m) changes in trading conditions. All forward-looking statements contained in this announcement are expressly qualified in their entirety by the cautionary statements contained or referred to in this section. Readers should not place undue reliance on forward-looking statements. Additional risk factors that may affect future results are contained in Royal Dutch Shell's 20-F for the year ended December 31, 2018 (available at www.shell.com/investor and www.sec.gov). These risk factors also expressly qualify all forward-looking statements contained in this announcement and should be considered by the reader. Each forward-looking statement speaks only as of the date of this announcement, March 6, 2019. Neither Royal Dutch Shell plc nor any of its subsidiaries undertake any obligation to publicly update or revise any forward-looking statement as a result of new information, future events or other information. In light of these risks, results could differ materially from those stated, implied or inferred from the forward-looking statements contained in this announcement.
We may have used certain terms, such as resources, in this announcement that United States Securities and Exchange Commission (SEC) strictly prohibits us from including in our filings with the SEC.  U.S. Investors are urged to consider closely the disclosure in our Form 20-F, File No 1-32575, available on the SEC website www.sec.gov. You can also obtain these forms from the SEC by calling 1-800-SEC-0330.