Champions emerge in NNPC/SNEPCo Junior Tennis Tournament
Jun 10, 2019
Suleiman Ibrahim has emerged the 2019 Champion in the U-16 category of the just-concluded NNPC/SNEPCo Junior Tennis Tournament held at the Lagos Lawn Tennis Club. Ibrahim from Junior Secondary School, Durumi in Abuja, came back after losing his first set 3-10 against David Dawariye fromFaith Baptist High School, Diobu,Rivers State, finishing 10-4 and 12-10 in a tie break. But in the Girls U-16 category, Omolayo Bamidele defeated Favour Moses 12-10 and 10-2 in a straight set to become the winner.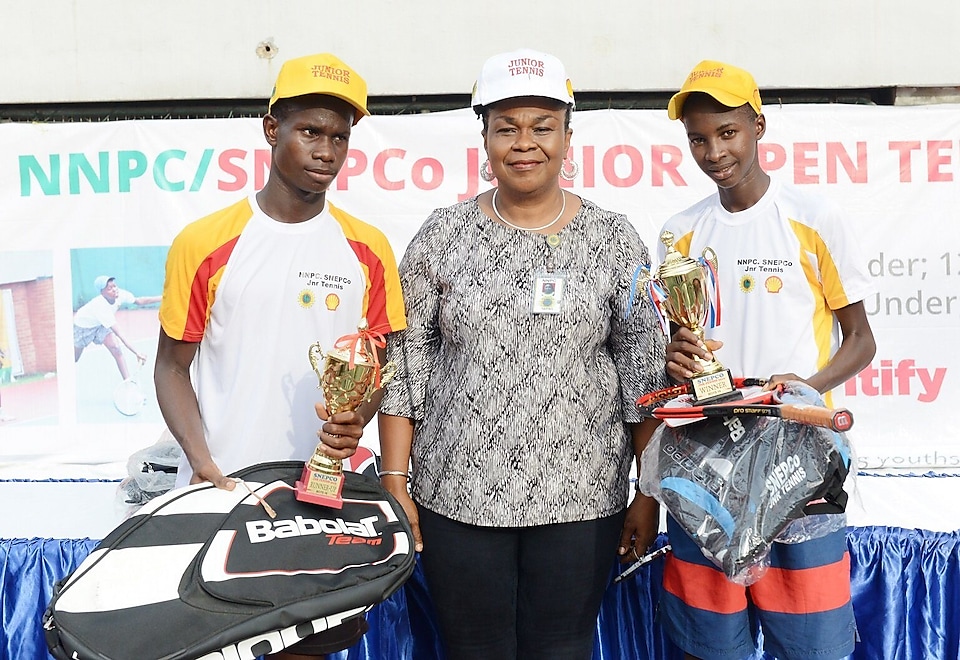 In the Boys U-14 category, Ganiyu Mubarak pipped Isaac Danjuma 10-8; 9-11; and 10-6 in a tie break while in the girls category, Esther Oni trumped Scholar Out 11-9; 4-10; and 11-9 in a tie break.
Mohammed Idris stunned the spectators defeating Seun Ogunsakin 7-10; 10-7; and 12-10 in a tie back to emerged winner in the Boys U-12 category while Adewusi Faith walloped Favour Amaechi 10-6 and 10-7 in a straight set.
Speaking at the finals of the tournament, Managing Director, Shell Nigeria Exploration and Production Company (SNEPCo), Bayo Ojulari, said: "Today's event marks yet another important milestone in our partnership with the tournament's vision ofattracting, identifying and developing young talents in the lawn tennis that was conceived by the International Tennis Academy (ITA) for the development of the sport and the good of society."
Represented by the company's Non-Operated Venture Manager, Segun Owolabi, said SNEPCo, with the support of NNPC and its co-venture partners was committed to providing opportunities for Nigerian youths not just in education but also in sports.
Since 2013, SNEPCo, in collaboration with NNPC and its co-venture partners has invested over N40 million to groom young tennis players that can represent the country at international games. Two former champions of the NNPC/SNEPCo junior tennis championship – Marylove Edwards and Angel McLeod – are currently pursuing professional tennis careers at the prestigious IMG Academy in the USA.
In his remarks at the presentation of trophies to the winners, Group General Manager, National Petroleum Investment Management Services, an NNPC subsidiary, Mr. Rowland Ewubare, said NNPC was proud to collaborate with SNEPCo in identifying young talent with the potential of making Nigeria proud in global championships.
Ewubare, who was represented by NAPIMS Deputy Manager, Manpower Planning and Human Resources, Mrs.IfeyinwaMojo-Eyes, said: "We commend SNEPCo for the success of this tournament and will continue to lend our support to worthy ventures as the one that has been showcased today and encourage more in this direction."
The 2019 season of the NNPC/SNEPCo Tennis Championship served-off Monday, May 27 at the National Stadium Surulere Tennis Centre with the round-robin playoffs. The championship assembled the best players in three age categories Boys & Girls 16s, 14s and 12s for boys and girls.
Speaking after the match, Suleiman Ibrahim said he breathed through his nose to win his opponent whom he described as a 'good player'. He also thanked NNPC/SNEPCo for their continued support by their sponsorship of the tournament.
Bamidele Odugbesan
Media Relations Manager
June 10, 2019
Softphone:  +234 807 022 8045
Cautionary note
The companies in which Royal Dutch Shell plc directly and indirectly owns investments are separate entities. In this announcement "Shell", "Shell group" and "Royal Dutch Shell" are sometimes used for convenience where references are made to Royal Dutch Shell plc and its subsidiaries in general. Likewise, the words "we", "us" and "our" are also used to refer to subsidiaries in general or to those who work for them. These expressions are also used where no useful purpose is served by identifying the particular company or companies. ''Subsidiaries'', "Shell subsidiaries" and "Shell companies" as used in this announcement refer to companies over which Royal Dutch Shell plc either directly or indirectly has control. Companies over which Shell has joint control are generally referred to "joint ventures" and companies over which Shell has significant influence but neither control nor joint control are referred to as "associates". In this announcement, joint ventures and associates may also be referred to as "equity-accounted investments". The term "Shell interest" is used for convenience to indicate the direct and/or indirect ownership interest held by Shell in a venture, partnership or company, after exclusion of all third-party interest.
This announcement contains forward-looking statements concerning the financial condition, results of operations and businesses of Royal Dutch Shell. All statements other than statements of historical fact are, or may be deemed to be, forward-looking statements. Forward-looking statements are statements of future expectations that are based on management's current expectations and assumptions and involve known and unknown risks and uncertainties that could cause actual results, performance or events to differ materially from those expressed or implied in these statements. Forward-looking statements include, among other things, statements concerning the potential exposure of Royal Dutch Shell to market risks and statements expressing management's expectations, beliefs, estimates, forecasts, projections and assumptions. These forward-looking statements are identified by their use of terms and phrases such as ''anticipate'', ''believe'', ''could'', ''estimate'', ''expect'', ''goals'', ''intend'', ''may'', ''objectives'', ''outlook'', ''plan'', ''probably'', ''project'', ''risks'', "schedule", ''seek'', ''should'', ''target'', ''will'' and similar terms and phrases. There are a number of factors that could affect the future operations of Royal Dutch Shell and could cause those results to differ materially from those expressed in the forward-looking statements included in this announcement, including (without limitation): (a) price fluctuations in crude oil and natural gas; (b) changes in demand for Shell's products; (c) currency fluctuations; (d) drilling and production results; (e) reserves estimates; (f) loss of market share and industry competition; (g) environmental and physical risks; (h) risks associated with the identification of suitable potential acquisition properties and targets, and successful negotiation and completion of such transactions; (i) the risk of doing business in developing countries and countries subject to international sanctions; (j) legislative, fiscal and regulatory developments including regulatory measures addressing climate change; (k) economic and financial market conditions in various countries and regions; (l) political risks, including the risks of expropriation and renegotiation of the terms of contracts with governmental entities, delays or advancements in the approval of projects and delays in the reimbursement for shared costs; and (m) changes in trading conditions. All forward-looking statements contained in this announcement are expressly qualified in their entirety by the cautionary statements contained or referred to in this section. Readers should not place undue reliance on forward-looking statements. Additional risk factors that may affect future results are contained in Royal Dutch Shell's 20-F for the year ended December 31, 2018 (available at www.shell.com/investor and www.sec.gov). These risk factors also expressly qualify all forward-looking statements contained in this announcement and should be considered by the reader. Each forward-looking statement speaks only as of the date of this announcement, June 10, 2019. Neither Royal Dutch Shell plc nor any of its subsidiaries undertake any obligation to publicly update or revise any forward-looking statement as a result of new information, future events or other information. In light of these risks, results could differ materially from those stated, implied or inferred from the forward-looking statements contained in this announcement.
We may have used certain terms, such as resources, in this announcement that United States Securities and Exchange Commission (SEC) strictly prohibits us from including in our filings with the SEC. U.S. Investors are urged to consider closely the disclosure in our Form 20-F, File No 1-32575, available on the SEC website www.sec.gov. You can also obtain these forms from the SEC by calling 1-800-SEC-0330.