NNPC/SNEPCo cancer machine reduces treatment waiting time by 80 percent
Aug 04, 2019
The new cutting-edge cancer treatment machine just installed at the National Hospital Abuja will reduce patient's treatment waiting time from 16 minutes to two minutes, the Chief Medical Director of the Hospital, Dr. Jaf Momoh, said on Friday at the inauguration of the equipment by the Vice President, Prof. Yemi Osinbajo.
The Elekta Synergy Linear Accelerator radiotherapy machine donated by the Nigeria National Petroleum Corporation (NNPC) and Shell Nigeria Exploration and Production Company (SNEPCo) enables treatment to focus on the cancer tumor and not impact other organs in the patient.
Momoh described the intervention by NNPC and SNEPCo as timely noting that first cancer treatment equipment in the hospital became disused in 2017 after 17 years of use which caused the hospital management to set out for two state-of-the-art replacement machines.
According to him, the first replacement machine was installed and inaugurated in December 2017 and has since "treated 850 patients in over 25,000 cycles of radiotherapy sessions".
"With this new machine, the hospital is poised for effective and efficient cancer treatment with no interruption during periods of routine equipment maintenance," Momoh said, adding that indigent patients would enjoy subsidised treatment.

In his speech, Vice President Osinbajo said cancer prevention initiatives should be promoted, noting that many cases of the disease could be prevented.
Represented by the Permanent Secretary, Federal Ministry of Health, Alhaji Abdullahi Mashi, Osinbajo said "The increasing trend in the prevalence of cancer may be a reflection of lifestyles which goes to show that lifestyle modifications may go a long way in curtailing the scourge. This underscores the importance of awareness creation at all health facilities and provision of screening facilities."
The Vice President charged well-meaning Nigerians and organisations "to replicate what NNPC and Shell Nigeria have done in other health facilities to make cancer treatment easily accessible to patients."
SNEPCo's Managing Director, Bayo Ojulari, said the intervention by NNPC and SNEPCo was to support government to widen treatment access, reduce waiting time significantly, and provide world-class facility that boasts of precision.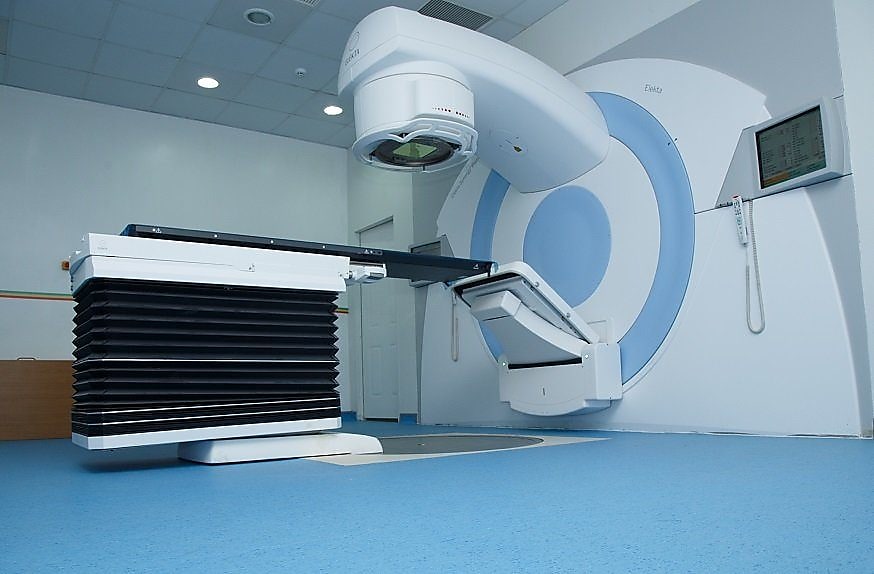 "The Elekta Synergy LINAC offers a unique radiation therapy technique that accurately shapes the radiation dose to the tumour with very little or no adverse effect on the surrounding organs, he said.

According to him, the cancer support was one of the five critical health projects being executed across the country by NNPC, SNEPCo and their co-venture partners.
He listed other projects to include Medical Emergency Response Improvement Programme in Lagos; Health System Strengthening Project at the Primary Healthcare Centre in Ogijo, Ogun State; Community Care Programmes – Health in Motion – across Nigeria; and Integrated Humanitarian Assistance Project for internally displaced persons in Dikwa, Bornu State where over 50,000 persons have so far enjoyed a broad range medical services, with over 826 children delivered.
Group Managing Director of NNPC, Mr. Mele Kolo Kyari, who was represented by the Group General Manager, Public Affairs, Mr. Ndu Ughamadu, pledged the commitment of the corporation to any initiatives aimed at touching the lives of Nigerians and stemming medical tourism out of the country.
Also at the equipment inauguration were former Speaker, House of Representatives and Chairman of the Governing Board of the National Hospital Abuja, Mrs. Patricia Etteh; Managing Director of JNC International, the equipment solutions partner, Mrs. Clare Omatseye; Director, The Shell Petroleum Development Company of Nigeria Limited, Mr. Bashir Bello; and representatives of SNEPCo's co-venture partners: Esso E&P Nigeria (Deepwater) Ltd; Total E&P Nigeria Ltd; and Nigeria Agip Exploration Ltd.
Bamidele Odugbesan
Media Relations Manager
August 4, 2019
Softphone: +234 807 022 8045
Cautionary note

The companies in which Royal Dutch Shell plc directly and indirectly owns investments are separate entities. In this announcement "Shell", "Shell group" and "Royal Dutch Shell" are sometimes used for convenience where references are made to Royal Dutch Shell plc and its subsidiaries in general. Likewise, the words "we", "us" and "our" are also used to refer to subsidiaries in general or to those who work for them. These expressions are also used where no useful purpose is served by identifying the particular company or companies. ''Subsidiaries'', "Shell subsidiaries" and "Shell companies" as used in this announcement refer to companies over which Royal Dutch Shell plc either directly or indirectly has control. Companies over which Shell has joint control are generally referred to "joint ventures" and companies over which Shell has significant influence but neither control nor joint control are referred to as "associates". In this announcement, joint ventures and associates may also be referred to as "equity-accounted investments". The term "Shell interest" is used for convenience to indicate the direct and/or indirect ownership interest held by Shell in a venture, partnership or company, after exclusion of all third-party interest.
This announcement contains forward-looking statements concerning the financial condition, results of operations and businesses of Royal Dutch Shell. All statements other than statements of historical fact are, or may be deemed to be, forward-looking statements. Forward-looking statements are statements of future expectations that are based on management's current expectations and assumptions and involve known and unknown risks and uncertainties that could cause actual results, performance or events to differ materially from those expressed or implied in these statements. Forward-looking statements include, among other things, statements concerning the potential exposure of Royal Dutch Shell to market risks and statements expressing management's expectations, beliefs, estimates, forecasts, projections and assumptions. These forward-looking statements are identified by their use of terms and phrases such as ''anticipate'', ''believe'', ''could'', ''estimate'', ''expect'', ''goals'', ''intend'', ''may'', ''objectives'', ''outlook'', ''plan'', ''probably'', ''project'', ''risks'', "schedule", ''seek'', ''should'', ''target'', ''will'' and similar terms and phrases. There are a number of factors that could affect the future operations of Royal Dutch Shell and could cause those results to differ materially from those expressed in the forward-looking statements included in this announcement, including (without limitation): (a) price fluctuations in crude oil and natural gas; (b) changes in demand for Shell's products; (c) currency fluctuations; (d) drilling and production results; (e) reserves estimates; (f) loss of market share and industry competition; (g) environmental and physical risks; (h) risks associated with the identification of suitable potential acquisition properties and targets, and successful negotiation and completion of such transactions; (i) the risk of doing business in developing countries and countries subject to international sanctions; (j) legislative, fiscal and regulatory developments including regulatory measures addressing climate change; (k) economic and financial market conditions in various countries and regions; (l) political risks, including the risks of expropriation and renegotiation of the terms of contracts with governmental entities, delays or advancements in the approval of projects and delays in the reimbursement for shared costs; and (m) changes in trading conditions. All forward-looking statements contained in this announcement are expressly qualified in their entirety by the cautionary statements contained or referred to in this section. Readers should not place undue reliance on forward-looking statements. Additional risk factors that may affect future results are contained in Royal Dutch Shell's 20-F for the year ended December 31, 2018 (available at www.shell.com/investor and www.sec.gov). These risk factors also expressly qualify all forward-looking statements contained in this announcement and should be considered by the reader. Each forward-looking statement speaks only as of the date of this announcement, August 4 , 2019. Neither Royal Dutch Shell plc nor any of its subsidiaries undertake any obligation to publicly update or revise any forward-looking statement as a result of new information, future events or other information. In light of these risks, results could differ materially from those stated, implied or inferred from the forward-looking statements contained in this announcement.
We may have used certain terms, such as resources, in this announcement that United States Securities and Exchange Commission (SEC) strictly prohibits us from including in our filings with the SEC. U.S. Investors are urged to consider closely the disclosure in our Form 20-F, File No 1-32575, available on the SEC website www.sec.gov. You can also obtain these forms from the SEC by calling1-800-SEC-0330.