SPDC JV spends N21 billion on community development in Bayelsa State
May 31, 2018
Communities in Bayelsa State received a total sum of N21.71 billion from the Shell Petroleum Development Company of Nigeria (SPDC) Ltd operated joint venture for development projects between 2006 and 2017, the highest such investment so far by SPDC and her partners in the Niger Delta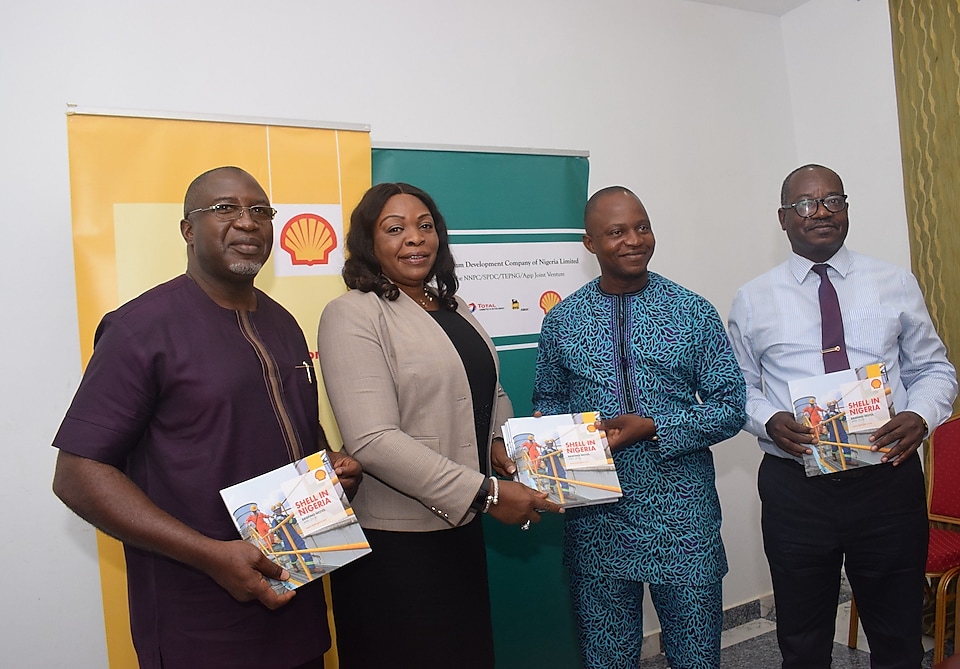 The payments represent the total funds disbursed to the 14 Global Memorandum of Understanding (GMoU) clusters in the state since the inception of this mode of community development in 2006.
"If you subtract this amount out of the N41.10 billion invested in the 37 active GMoU clusters in the Niger Delta, it shows that the Bayelsa State remittances represent more than half of the total sum spent on GMoUs in the region," said SPDC General Manager External Relations, Igo Weli, while presenting the 2018 Shell Nigeria Briefing Notes to journalists in Yenagoa. "Part of the reason for the record expenditure is the number of project GMoUs which we implemented, for example Gbaran – Ubie integrated oil and gas development. We also have a shallow offshore production in Bayelsa State, EA, which alone has four GMoU clusters. We're pleased at the contributions of the various GMoU clusters to the development of Bayelsa State."   
GMoU clusters in Bayelsa State have blazed the trail in community development, operating transport schemes, providing skills training and building amenities and infrastructure. For example, the Kou Cluster trained over 40 fisher men and women in modern fishing methods and gave them boats, outboard engines and fishing gears. Another cluster, Iduwini Development Foundation, sponsored several students to the United States.
In another novel social investment in Balyesa State, the Shell Group is implementing the Oloibiri Health Programme (OHP), to strengthen health care in Ogbia Local Government Area, as part of projects to mark Nigeria's centenary anniversary. The OHP has delivered household health services for more than 8,300 persons in 2,814 homes. The Kolo General Hospital - the referral hub for the local government areas - has been strengthened and upgraded to serve the delivery model with five health-for-life centres (which includes Oloibiri) and 15 ward health centres.
Also, Shell's flagship youth enterprise development programme, LiveWIRE has reached 600 persons in Bayelsa State since it was launched in Nigeria in 2003. The beneficiaries have been given entrepreneurial training and start-up grants to help them commence businesses that are also employing people. On education, in addition to the regular SPDC scholarship which began in the 1950s, some 160 students from Bayelsa State benefitted from the cradle-to-career programme which gives fully-funded sponsorship to top secondary schools in Nigeria.
Young graduates from Bayelsa State have also continued to enjoy awards under the Niger Delta Post Graduate Scholarship Programme which was established in 2010 to grow the Nigerian talent pipeline for the oil and gas industry through scholarships at three UK universities, Imperial College London, University College London and University of Leeds.
Mr. Weli said: "Our support for development in the Niger Delta is more than a business strategy. It is a demonstration of our commitment to the wellbeing of our hosts. That commitment remains unshaken, but it cannot prosper in an atmosphere of rancour, violence and endless acrimony. So, when communities maintain peace and law and order, they are in effect promoting their own development."
Bamidele Odugbesan
Media Relations Manager
Softphone:  +234 807 022 8045
Cautionary note
The companies in which Royal Dutch Shell plc directly and indirectly owns investments are separate entities. In this announcement "Shell", "Shell group" and "Royal Dutch Shell" are sometimes used for convenience where references are made to Royal Dutch Shell plc and its subsidiaries in general. Likewise, the words "we", "us" and "our" are also used to refer to subsidiaries in general or to those who work for them. These expressions are also used where no useful purpose is served by identifying the particular company or companies. ''Subsidiaries'', "Shell subsidiaries" and "Shell companies" as used in this announcement refer to companies over which Royal Dutch Shell plc either directly or indirectly has control. Companies over which Shell has joint control are generally referred to "joint ventures" and companies over which Shell has significant influence but neither control nor joint control are referred to as "associates". In this announcement, joint ventures and associates may also be referred to as "equity-accounted investments". The term "Shell interest" is used for convenience to indicate the direct and/or indirect ownership interest held by Shell in a venture, partnership or company, after exclusion of all third-party interest.
This announcement contains forward-looking statements concerning the financial condition, results of operations and businesses of Royal Dutch Shell. All statements other than statements of historical fact are, or may be deemed to be, forward-looking statements. Forward-looking statements are statements of future expectations that are based on management's current expectations and assumptions and involve known and unknown risks and uncertainties that could cause actual results, performance or events to differ materially from those expressed or implied in these statements. Forward-looking statements include, among other things, statements concerning the potential exposure of Royal Dutch Shell to market risks and statements expressing management's expectations, beliefs, estimates, forecasts, projections and assumptions. These forward-looking statements are identified by their use of terms and phrases such as ''anticipate'', ''believe'', ''could'', ''estimate'', ''expect'', ''goals'', ''intend'', ''may'', ''objectives'', ''outlook'', ''plan'', ''probably'', ''project'', ''risks'', "schedule", ''seek'', ''should'', ''target'', ''will'' and similar terms and phrases. There are a number of factors that could affect the future operations of Royal Dutch Shell and could cause those results to differ materially from those expressed in the forward-looking statements included in this announcement, including (without limitation): (a) price fluctuations in crude oil and natural gas; (b) changes in demand for Shell's products; (c) currency fluctuations; (d) drilling and production results; (e) reserves estimates; (f) loss of market share and industry competition; (g) environmental and physical risks; (h) risks associated with the identification of suitable potential acquisition properties and targets, and successful negotiation and completion of such transactions; (i) the risk of doing business in developing countries and countries subject to international sanctions; (j) legislative, fiscal and regulatory developments including regulatory measures addressing climate change; (k) economic and financial market conditions in various countries and regions; (l) political risks, including the risks of expropriation and renegotiation of the terms of contracts with governmental entities, delays or advancements in the approval of projects and delays in the reimbursement for shared costs; and (m) changes in trading conditions. All forward-looking statements contained in this announcement are expressly qualified in their entirety by the cautionary statements contained or referred to in this section. Readers should not place undue reliance on forward-looking statements. Additional risk factors that may affect future results are contained in Royal Dutch Shell's 20-F for the year ended December 31, 2017 (available at www.shell.com/investor and www.sec.gov). These risk factors also expressly qualify all forward-looking statements contained in this announcement and should be considered by the reader. Each forward-looking statement speaks only as of the date of this announcement, May 31, 2018. Neither Royal Dutch Shell plc nor any of its subsidiaries undertake any obligation to publicly update or revise any forward-looking statement as a result of new information, future events or other information. In light of these risks, results could differ materially from those stated, implied or inferred from the forward-looking statements contained in this announcement.
We may have used certain terms, such as resources, in this announcement that United States Securities and Exchange Commission (SEC) strictly prohibits us from including in our filings with the SEC. U.S. Investors are urged to consider closely the disclosure in our Form 20-F, File No 1-32575, available on the SEC website www.sec.gov. You can also obtain these forms from the SEC by calling 1-800-SEC-0330.