SNEPCo upgrades Pacelli School for the Blind
Sep 04, 2018
A major facelift came the way of Pacelli School for the Blind and Partially Sighted in Lagos on Friday when Shell Nigeria Exploration and Production Company (SNEPCo) made donations of furniture and air conditioners to the school.
This came barely a year after the staff of the company under the Shell Employees Care programme, visited the school at Christmas and made donations of food items to the 52-year-old institution established by a former Catholic Archbishop of Lagos, Leo Hale Taylor.
Speaking at the event, the Managing Director of SNEPCo, Bayo Ojulari, said: "Ours is a company reputed for diversity and inclusion and this is what is driving our interventions in special institutions such as this where we continue to support the provision of equal education opportunity for Nigerians regardless of their social, economic or physical challenges. By doing this, we are helping to transform the life of these future leaders and contributing to the growth of the Nation.
"We identify with children and senior citizens as part of our social investments portfolio which cuts across health, education and social services."
Ojulari who was represented by SNEPCo's Non-Operated Venture Manager, Segun Owolabi, commended the management of Pacelli for their consistent drive in giving the students good education in a conducive environment.
Also speaking, the school's principal, Sister Jane Onyeneri, described the donations by SNEPCo as timely, coming at a time that the school infrastructure was getting overstretched and aging. "We remain grateful to SNEPCo, NNPC and their partners for your efforts in making the learning environment conducive and we challenge other corporate bodies to emulate your kindness."
Items donated included bunk beds, mattresses, chairs and air conditioners. SNEPCo had in 2014 donated a school bus and a truck to the school for deliveries and supplies.
SNEPCo has supported many special institutions including old people's home and Children SOS villages. In 2015, the company built and equipped the Elfavour Home Orphanage School in Kaduna.
L-R: Social Performance Adviser, Shell Nigeria Exploration and Production Company (SNEPCo), Hope Nuka; SNEPCo Non-Operated Venture Manager, Segun Owolabi; the Principal, Pacelli School for the Blind and Partially Sighted Children, Sister Jane Onyeneri; Sister Eucharia Uwakwe; and SNEPCo's Communications Manager, Olusola Abulu, during the donation of furniture items to Pacelli School for the Blind and Partially Sighted Children in Lagos ...on Friday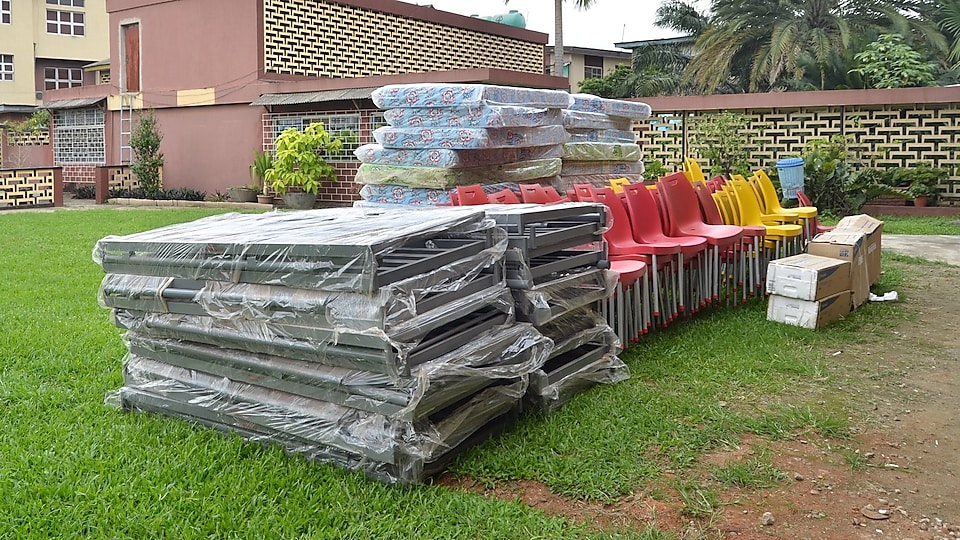 Shell Nigeria Exploration and Production Company (SNEPCo) donations of furniture and air conditioners to the Pacelli School for the Blind and Partially Sighted, Lagos.
SNEPCo pioneered Nigeria's deep-water oil and gas production at the Bonga field, a project that increased Nigeria's oil capacity by 10% when output began in 2005. The company, working with its government and co-venture partners, has a long history of supporting education. About 267 students are currently on SNEPCo's full-board scholarship in top-rated secondary schools across Nigeria while another 100 students are in different universities on the company's scholarship
Bamidele Odugbesan
Media Relations Manager
Softphone:  +234 807 022 8045
Cautionary note
The companies in which Royal Dutch Shell plc directly and indirectly owns investments are separate entities. In this announcement "Shell", "Shell group" and "Royal Dutch Shell" are sometimes used for convenience where references are made to Royal Dutch Shell plc and its subsidiaries in general. Likewise, the words "we", "us" and "our" are also used to refer to subsidiaries in general or to those who work for them. These expressions are also used where no useful purpose is served by identifying the particular company or companies. ''Subsidiaries'', "Shell subsidiaries" and "Shell companies" as used in this announcement refer to companies over which Royal Dutch Shell plc either directly or indirectly has control. Companies over which Shell has joint control are generally referred to "joint ventures" and companies over which Shell has significant influence but neither control nor joint control are referred to as "associates". In this announcement, joint ventures and associates may also be referred to as "equity-accounted investments". The term "Shell interest" is used for convenience to indicate the direct and/or indirect ownership interest held by Shell in a venture, partnership or company, after exclusion of all third-party interest.
This announcement contains forward-looking statements concerning the financial condition, results of operations and businesses of Royal Dutch Shell. All statements other than statements of historical fact are, or may be deemed to be, forward-looking statements. Forward-looking statements are statements of future expectations that are based on management's current expectations and assumptions and involve known and unknown risks and uncertainties that could cause actual results, performance or events to differ materially from those expressed or implied in these statements. Forward-looking statements include, among other things, statements concerning the potential exposure of Royal Dutch Shell to market risks and statements expressing management's expectations, beliefs, estimates, forecasts, projections and assumptions. These forward-looking statements are identified by their use of terms and phrases such as ''anticipate'', ''believe'', ''could'', ''estimate'', ''expect'', ''goals'', ''intend'', ''may'', ''objectives'', ''outlook'', ''plan'', ''probably'', ''project'', ''risks'', "schedule", ''seek'', ''should'', ''target'', ''will'' and similar terms and phrases. There are a number of factors that could affect the future operations of Royal Dutch Shell and could cause those results to differ materially from those expressed in the forward-looking statements included in this announcement, including (without limitation): (a) price fluctuations in crude oil and natural gas; (b) changes in demand for Shell's products; (c) currency fluctuations; (d) drilling and production results; (e) reserves estimates; (f) loss of market share and industry competition; (g) environmental and physical risks; (h) risks associated with the identification of suitable potential acquisition properties and targets, and successful negotiation and completion of such transactions; (i) the risk of doing business in developing countries and countries subject to international sanctions; (j) legislative, fiscal and regulatory developments including regulatory measures addressing climate change; (k) economic and financial market conditions in various countries and regions; (l) political risks, including the risks of expropriation and renegotiation of the terms of contracts with governmental entities, delays or advancements in the approval of projects and delays in the reimbursement for shared costs; and (m) changes in trading conditions. All forward-looking statements contained in this announcement are expressly qualified in their entirety by the cautionary statements contained or referred to in this section. Readers should not place undue reliance on forward-looking statements. Additional risk factors that may affect future results are contained in Royal Dutch Shell's 20-F for the year ended December 31, 2017 (available at www.shell.com/investor and www.sec.gov). These risk factors also expressly qualify all forward-looking statements contained in this announcement and should be considered by the reader.  Each forward-looking statement speaks only as of the date of this announcement, September 4, 2018. Neither Royal Dutch Shell plc nor any of its subsidiaries undertake any obligation to publicly update or revise any forward-looking statement as a result of new information, future events or other information. In light of these risks, results could differ materially from those stated, implied or inferred from the forward-looking statements contained in this announcement.
We may have used certain terms, such as resources, in this announcement that United States Securities and Exchange Commission (SEC) strictly prohibits us from including in our filings with the SEC.  U.S. Investors are urged to consider closely the disclosure in our Form 20-F, File No 1-32575, available on the SEC website www.sec.gov. You can also obtain these forms from the SEC by calling 1-800-SEC-0330.