SNEPCo donates ultramodern science labs to Kwara school
Jul 23, 2018
Shell Nigeria Exploration and Production Company Limited (SNEPCO) has donated four ultramodern science laboratories to Eruku Secondary Commercial School in Ekiti Local Government area of Kwara State.
This is the latest effort by the Shell deep offshore company to spread its social investments across Nigeria and boost the study of science subjects among secondary school students.
"The importance of science education cannot be overemphasised particularly in this age of rapid technology advancement. Government alone cannot do it which is why SNEPCo, its government and co-venture partners have continued to intervene in this critical area of youth development just as much as we do in the health sector," said Managing Director of SNEPCo, Bayo Ojulari, at a ceremony in the school last week to handover the multimillion naira laboratories to the school management.
Represented by SNEPCo's General Manager, Deepwater Exploration, Adedayo Adewuyi, Ojulari charged the students to take maximum learning advantage offered by the well-equipped laboratories to develop their potential in Science, Technology, Engineering and Mathematics.
Deputy Manager, Community Development, National Petroleum Investment Management Services (NAPIMS), Mrs Jolayemi Kolapo, said NAPIMS on behalf of NNPC was pleased to support SNEPCo's focus on education across Nigeria as a proof-point of government's commitment to people development in its partnership with oil and gas companies in the country.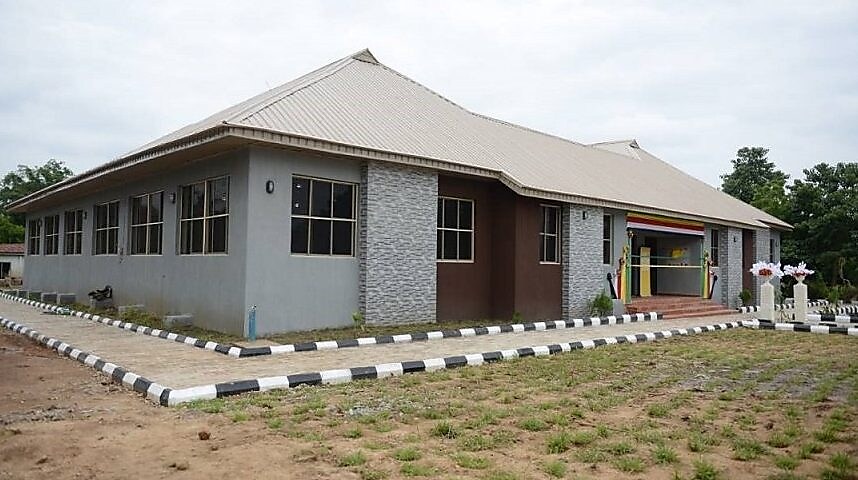 Kolapo, represented the Group General Manager of NAPIMS, Roland Ewubare, said: "We believe that our investments should not just be in the bolts and nuts but also in the people. Assisting the Government to provide quality Education delivery is a crucial aspect of our investment and that is why NAPIMS is pleased to partner with SNEPCo on the delivery of this project. We therefore encourage the school to make judicious use of the laboratories for the intended purpose. It is only by so doing that the huge investment made in putting this project in place would be justified."
The Kwara State Commissioner for Education and Human Capital Development, Bilikisu Oniyangi, described the laboratories as world-class standard and charged parents and teachers to 'deliberately encourage youths to have inquisitive minds that can help in carrying out research for solving modern day challenges that pose a threat to humanity.'
Oniyangi, who was represented by Director,Human Capital Developmentin the ministry, Mrs. Comfort Abioye, described SNEPCo's intervention as timely noting that 'the project supports the policy thrust of the state governor on the improvement of quality teaching and learning of science subjects aimed at facilitating development in technology and human development'.
Management, staff, parents and students of the school, and community leaders who witnessed the handover of the laboratories were all full of praises for SNEPCo, NNPC and their partners for extending their social investment to their community, noting that the laboratories would go a long way in supporting the students' preparation for internal and external examinations. They called on the statement government to complement SNEPCo's gesture by providing qualified science teachers to the school.
SNEPCo pioneered Nigeria's deep-water oil and gas production at the Bonga field, a project that increased Nigeria's oil capacity by 10% when output began in 2005. The company, working with its government and co-venture partners, has a long history of supporting education. About 267 sstudents are currently on SNEPCo's full-board scholarship in top-rated secondary schools across Nigeria while another 100 students are in different universities on the company's scholarship.
Bamidele Odugbesan
Media Relations Manager
July 22, 2018
Softphone: +234 807 022 8045
Cautionary Note
The companies in which Royal Dutch Shell plc directly and indirectly owns investments are separate entities. In this announcement "Shell", "Shell group" and "Royal Dutch Shell" are sometimes used for convenience where references are made to Royal Dutch Shell plc and its subsidiaries in general. Likewise, the words "we", "us" and "our" are also used to refer to subsidiaries in general or to those who work for them. These expressions are also used where no useful purpose is served by identifying the particular company or companies. ''Subsidiaries'', "Shell subsidiaries" and "Shell companies" as used in this announcement refer to companies over which Royal Dutch Shell plc either directly or indirectly has control. Companies over which Shell has joint control are generally referred to "joint ventures" and companies over which Shell has significant influence but neither control nor joint control are referred to as "associates". In this announcement, joint ventures and associates may also be referred to as "equity-accounted investments". The term "Shell interest" is used for convenience to indicate the direct and/or indirect ownership interest held by Shell in a venture, partnership or company, after exclusion of all third-party interest.
This announcement contains forward-looking statements concerning the financial condition, results of operations and businesses of Royal Dutch Shell. All statements other than statements of historical fact are, or may be deemed to be, forward-looking statements. Forward-looking statements are statements of future expectations that are based on management's current expectations and assumptions and involve known and unknown risks and uncertainties that could cause actual results, performance or events to differ materially from those expressed or implied in these statements. Forward-looking statements include, among other things, statements concerning the potential exposure of Royal Dutch Shell to market risks and statements expressing management's expectations, beliefs, estimates, forecasts, projections and assumptions. These forward-looking statements are identified by their use of terms and phrases such as ''anticipate'', ''believe'', ''could'', ''estimate'', ''expect'', ''goals'', ''intend'', ''may'', ''objectives'', ''outlook'', ''plan'', ''probably'', ''project'', ''risks'', "schedule", ''seek'', ''should'', ''target'', ''will'' and similar terms and phrases. There are a number of factors that could affect the future operations of Royal Dutch Shell and could cause those results to differ materially from those expressed in the forward-looking statements included in this announcement, including (without limitation): (a) price fluctuations in crude oil and natural gas; (b) changes in demand for Shell's products; (c) currency fluctuations; (d) drilling and production results; (e) reserves estimates; (f) loss of market share and industry competition; (g) environmental and physical risks; (h) risks associated with the identification of suitable potential acquisition properties and targets, and successful negotiation and completion of such transactions; (i) the risk of doing business in developing countries and countries subject to international sanctions; (j) legislative, fiscal and regulatory developments including regulatory measures addressing climate change; (k) economic and financial market conditions in various countries and regions; (l) political risks, including the risks of expropriation and renegotiation of the terms of contracts with governmental entities, delays or advancements in the approval of projects and delays in the reimbursement for shared costs; and (m) changes in trading conditions. All forward-looking statements contained in this announcement are expressly qualified in their entirety by the cautionary statements contained or referred to in this section. Readers should not place undue reliance on forward-looking statements. Additional risk factors that may affect future results are contained in Royal Dutch Shell's 20-F for the year ended December 31, 2017 (available at www.shell.com/investor and www.sec.gov). These risk factors also expressly qualify all forward-looking statements contained in this announcement and should be considered by the reader. Each forward-looking statement speaks only as of the date of this announcement, July 22, 2018. Neither Royal Dutch Shell plc nor any of its subsidiaries undertake any obligation to publicly update or revise any forward-looking statement as a result of new information, future events or other information. In light of these risks, results could differ materially from those stated, implied or inferred from the forward-looking statements contained in this announcement.
We may have used certain terms, such as resources, in this announcement that United States Securities and Exchange Commission (SEC) strictly prohibits us from including in our filings with the SEC. U.S. Investors are urged to consider closely the disclosure in our Form 20-F, File No 1-32575, available on the SEC website www.sec.gov. You can also obtain these forms from the SEC by calling 1-800-SEC-0330.