Shell tasks contractors over safety, rewards champions
Jun 18, 2018
Vice President of Shell Companies in Nigeria (SCiN) and Gabon, Peter Costello, has charged contractors working for and with Shell Companies in Nigeria to prioritise safety and be relentless in discussing the challenges and dilemmas, noting that the international oil giant was poised to help improve safety performance throughout the energy industry.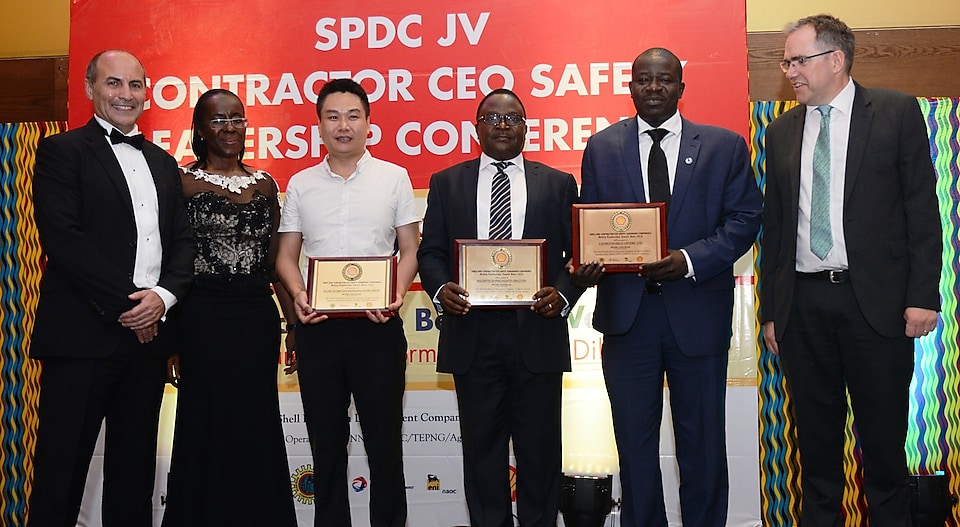 "Safety is our top priority. Everyone who works for us, or with us, has an important part to play in making SCiN a safer place to work. We cannot succeed in isolation and we must share the challenges by building strong partnerships to further improve our safety culture," Costello said at the 7th edition of annual SPDC JV Contractor CEO Safety Leadership Conference held in Lagos last week.
He added: "We expect our staff and contractors to comply with safety rules and regulations relevant to their work; to intervene to prevent unsafe conditions; and to respect fellow workers and the communities in which we work."
In his remarks, Managing Director of The Shell Petroleum Development Company of Nigeria Limited (SPDC) and Country Chair, Shell Companies in Nigeria, Osagie Okunbor, described the annual event as an opportunity to share learnings and ensure alignment, common ground and shared commitments on Health, Safety and Environment (HSE) in Shell's joint operations.
"We cannot be too careful with safety issues. Through engagement, we ensure that the right competence is in place and we create opportunities for our staff and contract staff to speak openly about dilemmas. The collaboration must be continually strengthened so as to make Shell a safety model in the Nigerian oil and gas industry." Okunbor said, adding that SPDC "more than ever before, is committed to delivering energy responsibly and safely, with total prevention of harm to our employees, contractors, local communities and the environment."
While setting the conference scene, the General Manager Safety and Environment of Shell Companies in Nigeria, Chidube Nnene-Anochie, said the two-day conference was informed by SCiN's mission to constantly work in partnership with contractors, regulators, industry trade associations and professional bodies to share Shell's global safety experience, standards and knowledge.
She said the conference had over the years helped to increase safety awareness among contractors working for SCiN particularly in the areas of safety hazards that are peculiar to oil exploration and production activities.
Highpoint of the conference was the presentation of the 2018 SCiN Safety Leadership Awards to contractors who have distinguished themselves as safety champions in the areas of personal, process and transport safety, among others.
The conference was attended by SCiN including the Managing Director, Shell Nigeria Exploration and Production Company (SNEPCo), Mr. Bayo Ojulari; Managing Director of Shell Nigeria Gas, Mr. Ed Ubong; and the CEOs and representatives of over 83 contractor companies.
Bamidele Odugbesan
Media Relations Manager
Softphone:  +234 807 022 8045
Cautionary note
The companies in which Royal Dutch Shell plc directly and indirectly owns investments are separate entities. In this announcement "Shell", "Shell group" and "Royal Dutch Shell" are sometimes used for convenience where references are made to Royal Dutch Shell plc and its subsidiaries in general. Likewise, the words "we", "us" and "our" are also used to refer to subsidiaries in general or to those who work for them. These expressions are also used where no useful purpose is served by identifying the particular company or companies. ''Subsidiaries'', "Shell subsidiaries" and "Shell companies" as used in this announcement refer to companies over which Royal Dutch Shell plc either directly or indirectly has control. Companies over which Shell has joint control are generally referred to "joint ventures" and companies over which Shell has significant influence but neither control nor joint control are referred to as "associates". In this announcement, joint ventures and associates may also be referred to as "equity-accounted investments". The term "Shell interest" is used for convenience to indicate the direct and/or indirect ownership interest held by Shell in a venture, partnership or company, after exclusion of all third-party interest.
This announcement contains forward-looking statements concerning the financial condition, results of operations and businesses of Royal Dutch Shell. All statements other than statements of historical fact are, or may be deemed to be, forward-looking statements. Forward-looking statements are statements of future expectations that are based on management's current expectations and assumptions and involve known and unknown risks and uncertainties that could cause actual results, performance or events to differ materially from those expressed or implied in these statements. Forward-looking statements include, among other things, statements concerning the potential exposure of Royal Dutch Shell to market risks and statements expressing management's expectations, beliefs, estimates, forecasts, projections and assumptions. These forward-looking statements are identified by their use of terms and phrases such as ''anticipate'', ''believe'', ''could'', ''estimate'', ''expect'', ''goals'', ''intend'', ''may'', ''objectives'', ''outlook'', ''plan'', ''probably'', ''project'', ''risks'', "schedule", ''seek'', ''should'', ''target'', ''will'' and similar terms and phrases. There are a number of factors that could affect the future operations of Royal Dutch Shell and could cause those results to differ materially from those expressed in the forward-looking statements included in this announcement, including (without limitation): (a) price fluctuations in crude oil and natural gas; (b) changes in demand for Shell's products; (c) currency fluctuations; (d) drilling and production results; (e) reserves estimates; (f) loss of market share and industry competition; (g) environmental and physical risks; (h) risks associated with the identification of suitable potential acquisition properties and targets, and successful negotiation and completion of such transactions; (i) the risk of doing business in developing countries and countries subject to international sanctions; (j) legislative, fiscal and regulatory developments including regulatory measures addressing climate change; (k) economic and financial market conditions in various countries and regions; (l) political risks, including the risks of expropriation and renegotiation of the terms of contracts with governmental entities, delays or advancements in the approval of projects and delays in the reimbursement for shared costs; and (m) changes in trading conditions. All forward-looking statements contained in this announcement are expressly qualified in their entirety by the cautionary statements contained or referred to in this section. Readers should not place undue reliance on forward-looking statements. Additional risk factors that may affect future results are contained in Royal Dutch Shell's 20-F for the year ended December 31, 2017 (available at www.shell.com/investor and www.sec.gov). These risk factors also expressly qualify all forward-looking statements contained in this announcement and should be considered by the reader.  Each forward-looking statement speaks only as of the date of this announcement, June 18, 2018. Neither Royal Dutch Shell plc nor any of its subsidiaries undertake any obligation to publicly update or revise any forward-looking statement as a result of new information, future events or other information. In light of these risks, results could differ materially from those stated, implied or inferred from the forward-looking statements contained in this announcement.
We may have used certain terms, such as resources, in this announcement that United States Securities and Exchange Commission (SEC) strictly prohibits us from including in our filings with the SEC.  U.S. Investors are urged to consider closely the disclosure in our Form 20-F, File No 1-32575, available on the SEC website www.sec.gov. You can also obtain these forms from the SEC by calling 1-800-SEC-0330.