Shell Nigeria Gas donates Labs, ICT centre to community school
Oct 15, 2017
The Shell Nigeria Gas (SNG) has donated an ultramodern ICT Centre and well-equipped science laboratories to African Church Community Secondary School in Ewupe, a community hosting the company's facilities in Ota area of Ogun State.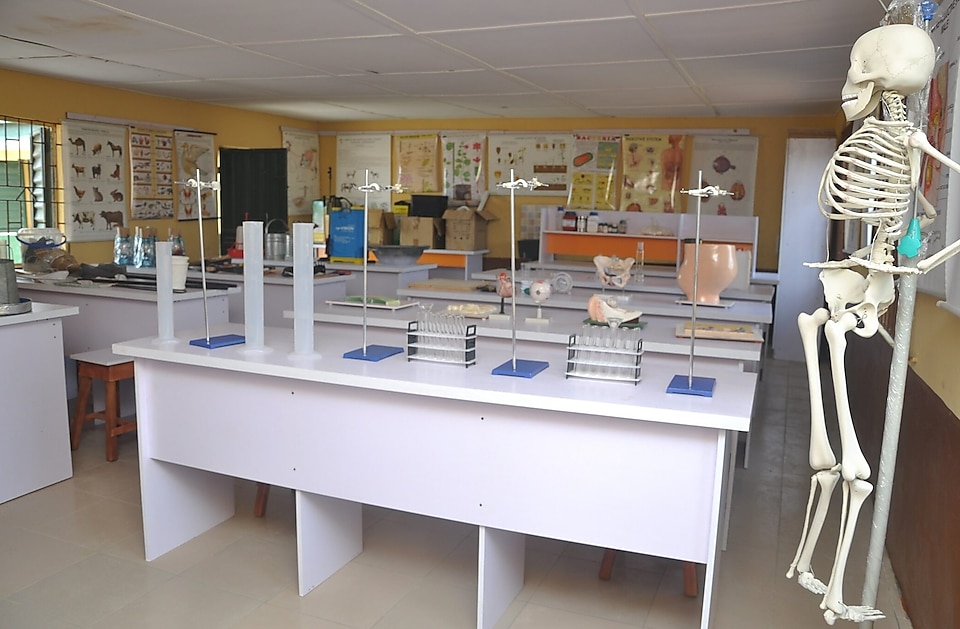 The donation was the second phase of SNG's intervention in the school to bring it to a competitive standard. The company had in 2016 donated a block of five classrooms, a 12-room stand-alone toilet facility, school water system, upgraded football field, and a rehabilitated 5 blocks of 19 classrooms for shared use by the school and the co-located Ebenezer African Church Primary School in the first phase of the intervention.
"Our goal is to support government and other relevant agencies to close the gap of educational inequality between pupils of public schools and their counterparts in private schools," Managing Director of SNG, ED Ubong, said at a ceremony marking the completion and handover of the projects to Ogun State government.
"We recognise education as the topmost need of the people of our neighboring communities and what we have done is a progression of our longstanding support to the school and to the communities," Ubong added.
The Ogun State Commissioner for Education, Science and Technology, Mrs. Modupe Mujota, who received the facilities on behalf of the state, commended SNG's investment in public schools in the community and charged the students to take full advantage of the facilities to "upscale their academic performance and competitive exploits".
"This singular act of Shell Nigeria Gas depicts the company's fulfillment of its social responsibility for the development of its host communities and is worthy of emulation by others," she said.
In his remarks, the school principal, Mr. Gbolahan Adekunjo, acknowledged the improved academic standard and the growing number of enrolment in the school following the series of upgrade by SNG. "The interventions have resulted in an enabling environment for teaching and learning and the impact is felt by the students, staff, parents and catchment communities."
The Chairman Community Development Association Ewupe, Alhaji Monsuru Akande, thanked SNG on behalf of the community and appealed to the state government to continue to create the enabling environment for SNG and other companies to support education in the state.
Shell Nigeria Gas Limited is a fully owned Shell company for the downstream distribution of gas to industries in Nigeria. SNG currently operates a gas transmission and distribution network of approximately 115km and serves industrial customers in Ota, Ogun State and Aba in Abia State.
Bamidele Odugbesan
Shell Spokesperson, Nigeria
Softphone:  +234 807 022 8045
Mobile:        +234 807 032 8045
Cautionary Note
The companies in which Royal Dutch Shell plc directly and indirectly owns investments are separate legal entities. In this press release "Shell", "Shell group" and "Royal Dutch Shell" are sometimes used for convenience where references are made to Royal Dutch Shell plc and its subsidiaries in general. Likewise, the words "we", "us" and "our" are also used to refer to subsidiaries in general or to those who work for them. These expressions are also used where no useful purpose is served by identifying the particular company or companies. ''Subsidiaries'', "Shell subsidiaries" and "Shell companies" as used in this press release refer to companies over which Royal Dutch Shell plc  either directly or indirectly has control. Entities and unincorporated arrangements over which Shell has joint control are generally referred to "joint ventures" and "joint operations" respectively.  Entities over which Shell has significant influence but neither control nor joint control are referred to as "associates". The term "Shell interest" is used for convenience to indicate the direct and/or indirect ownership interest held by Shell in a venture, partnership or company, after exclusion of all third-party interest.
This press release contains forward-looking statements concerning the financial condition, results of operations and businesses of Royal Dutch Shell. All statements other than statements of historical fact are, or may be deemed to be, forward-looking statements. Forward-looking statements are statements of future expectations that are based on management's current expectations and assumptions and involve known and unknown risks and uncertainties that could cause actual results, performance or events to differ materially from those expressed or implied in these statements. Forward-looking statements include, among other things, statements concerning the potential exposure of Royal Dutch Shell to market risks and statements expressing management's expectations, beliefs, estimates, forecasts, projections and assumptions. These forward-looking statements are identified by their use of terms and phrases such as ''anticipate'', ''believe'', ''could'', ''estimate'', ''expect'', ''goals'', ''intend'', ''may'', ''objectives'', ''outlook'', ''plan'', ''probably'', ''project'', ''risks'', "schedule", ''seek'', ''should'', ''target'', ''will'' and similar terms and phrases. There are a number of factors that could affect the future operations of Royal Dutch Shell and could cause those results to differ materially from those expressed in the forward-looking statements included in this press release, including (without limitation): (a) price fluctuations in crude oil and natural gas; (b) changes in demand for Shell's products; (c) currency fluctuations; (d) drilling and production results; (e) reserves estimates; (f) loss of market share and industry competition; (g) environmental and physical risks; (h) risks associated with the identification of suitable potential acquisition properties and targets, and successful negotiation and completion of such transactions; (i) the risk of doing business in developing countries and countries subject to international sanctions; (j) legislative, fiscal and regulatory developments including regulatory measures addressing climate change; (k) economic and financial market conditions in various countries and regions; (l) political risks, including the risks of expropriation and renegotiation of the terms of contracts with governmental entities, delays or advancements in the approval of projects and delays in the reimbursement for shared costs; and (m) changes in trading conditions. All forward-looking statements contained in this press release are expressly qualified in their entirety by the cautionary statements contained or referred to in this section. Readers should not place undue reliance on forward-looking statements. Additional risk factors that may affect future results are contained in Royal Dutch Shell's 20-F for the year ended December 31, 2016 (available at www.shell.com/investor and www.sec.gov ). These risk factors also expressly qualify all forward looking statements contained in this press release and should be considered by the reader.  Each forward-looking statement speaks only as of the date of this press release, October 15, 2017. Neither Royal Dutch Shell plc nor any of its subsidiaries undertake any obligation to publicly update or revise any forward-looking statement as a result of new information, future events or other information. In light of these risks, results could differ materially from those stated, implied or inferred from the forward-looking statements contained in this press release.
We may have used certain terms, such as resources, in this press release that United States Securities and Exchange Commission (SEC) strictly prohibits us from including in our filings with the SEC.  U.S. Investors are urged to consider closely the disclosure in our Form 20-F, File No 1-32575, available on the SEC website www.sec.gov.